Starry-eyed Visions
Before contacting us, take a look at the Purple Wagon Designs Wedding Collection available here on our website. We have a wide range of styles to complement any style of wedding, and many of our couples find something here that they fall in love with! Of course, all of the designs in our Collection will be customized with your wedding colors and wording. And if you don't see something that is a perfect fit, the Tailor-Made Package is for you! We love creating custom designs for people!
Tell Us All About It
Purple Wagon Designs wants to know all the details. Submit your request to us by filling out our contact form or emailing kimberly@purplewagondesigns.com. Be sure to include the following information:
Date of your event
Quantity needed
Components you'd like to include (for instance, invitation, reply card, accommodations information, thank you note, etc.)
Stationery budget
Theme or ideas you have
Following receipt of your initial inquiry, we will get in touch with you to discuss all the details. Your consultation can be done over the phone, through email, or in person if you're in either the Buffalo, NY area or the Pittsburgh, PA area.
Your Event, Your Choice
Following your consultation, we'll write up an estimate and work request that outlines everything we've talked about. Once you've had a chance to review, if you need to scale back to fit within your budget, we're happy to make suggestions on ways to do that. In order to get started, we will need your signed proposal / contract and 50% of the total estimate amount.
Our Favorite Part
This is when the fun really begins! Working from what we've discussed, Purple Wagon Designs will create a draft of your project. You'll receive an email from us with an initial design piece. Tell us what you love about it, what you dislike, what changes you have in mind, and we'll keep working with you and the design until it is exactly what you're looking for. Honest feedback is the key to this step; we won't stop until it's just right!
When we've found the perfect look for you, Purple Wagon Designs will incorporate your look into the other pieces in your stationery suite. Every piece will have a consistent and unified look to help create your own Wedding Brand!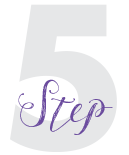 Share The Love
Following approval of the final design proof, we'll print and deliver all the components of your stationery suite. If you're local to the Pittsburgh area, we're happy to meet you to hand-deliver the project. We want to see you smile! At this time, the balance of the invoice will be due. If we can't meet in person to make the delivery, the remaining balance – including any shipping costs – will be due before we can mail you your stationery.
Then comes the best part: Start sending and enjoy the "oohs and ahhs" from your loved ones!
We can't wait to get started with you!
Call or email to get the ball rolling.
We can't wait to get started with you!
Call or email to get the ball rolling.